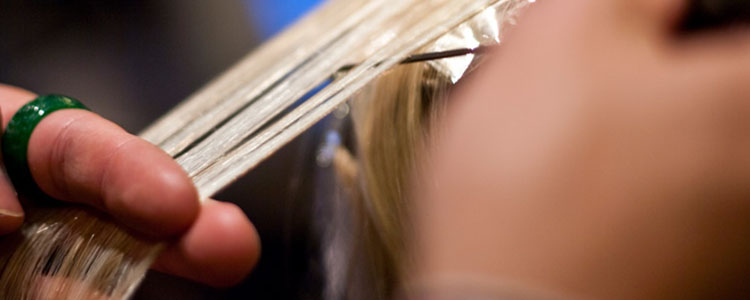 Colouring
Leigh has been a colour specialist for over 30 years. Renowned within the industry for his thorough knowledge, creativity and attention to detail not to mention his vast experience, Leigh remains passionate about his work and is always looking for new ways to inspire.
At Leigh Roberts we have dedicated colour specialists in the salon who are available for consultation. Our expertise with colour means we can provide a complete range of colour services from simple colouring and highlighting to all "balayage" methods, advanced colour change and correction techniques.
We use only the highest quality professional colour products available including
L'Oréal Professional and Davines Finest Pigments.
Skin testing policy
A skin test is required for all new clients for colour services
This test must be carried out at least 48 hours prior to appointment
You may collect this test from the salon reception or we can post it to you
Please inform us if you are pregnant, have any known allergies or have had any previous allergic reactions
Testimonials
Georgina Bailey "Highly, highly recommend. Not only were my highlights the best i've ever had, the experience itself is a pure indulgence from the products to the beautiful envrionment and the best coffee!"
Jo Miles-Plane "I love my new colour! Thank you Leigh..."
Jessica Gray "A great afternoon spent at Leigh Roberts. I LOVE my amazing colour x"
Catherine Lees "I've been coming to Leigh Roberts for 7 years now and although i have to travel from Fulham in London i wouldn't trust anyone else to look after my hair. I know that Leigh will always do an amazing job as he is such a perfectionist and has a real passion for his work. The team really spoil me in the salon and i really look forward to coming back, so much so that i travel down from London every 6 weeks".
Anna Joy "Leigh has been colouring my hair for the past 8 years and I can't imagine letting anyone else touch my hair. He is totally in tune with what suits me, what I like and what suits my lifestyle. His passion and professionalism are evident 100% of the time. The salon environment and Leigh's amazing ability with colour makes the experience easy, relaxed and stress free."
Jamila Burke "I've been coming to Leigh Roberts for the last 5 years, since a friend recommended him for his expertise in colouring. I was immediately delighted with the results and felt like my hair had finally been saved from the state it was in. Coming here now, whether for colouring, cutting or styling is like coming to friends who really understand and have the skills and imagination to deliver."